ClickAlgo Review
ClickAlgo is a software development company specialised in building trading tools, indicators and automated strategies for the cTrader platform; the company is an official cTrader partner.
The was founded by Paul Hayes, a software engineer and IT consultant. 
ClickAlgo launched in 2015, originally called cAlgo4U but rebranded as ClickAlgo the following year. The rebrand is linked to the company's transition from solely offering cTrader-related products as the ClickAlgo marketplace lists tools and indicators for other platforms such as NinjaTrader.
The products developed by ClickAlgo are community-driven, meaning customers can make suggestions on improving each product. Whenever a ClickAlgo product is updated with improvements, every customer of that product gets a free update. The ClickAlgo Telegram group has almost one thousand members collaborating on optimising and improving existing products and suggesting new indicators, bots, and tools for the future.
ClickAlgo provides an e-shop and marketplace where it sells ready-made tools. It offers a custom development service and an extensive knowledge base with advanced educational resources related to the cTrader platform and developing custom tools. This ClickAlgo review explores the various products, services and resources offered by the company.
User Rating
[Total Votes:

3

Average Client Rating:

4.7

]

ClickAlgo Products
The ClickAlgo marketplace features dozens of products developed by the ClickAlgo team and third-party developers under the Vendor Program. The e-shop offers trading software, indicators and automated trading strategies.
ClickAlgo Trading Software
ClickAlgo's trading software category features various tools and widgets that extend the core functionality of the cTrader platform. Popular examples of trading software products include:
cTrader Volatility Alert Widget: this widget provides an easy to read meter showing volatility and market depth of a particular currency pair.
cTrader Forex Scalping HotKeys:

this widget is a one-click trading widget consolidating various trading commands close together for efficient scalping.

cTrader One-Click Trading Terminal:

this widget allows you to configure position sizes based on risk and reward, rather than absolute size, then embeds quick trade buttons on the cTrader platform interface.

cTrader ATR Trailing Stop:

this tool lets traders apply a trailing stop loss to positions based on the average true range.

cTrader Memory Management:

this tool helps traders optimise RAM usage of their cTrader robots on their VPS to reduce hosting costs and improve performance.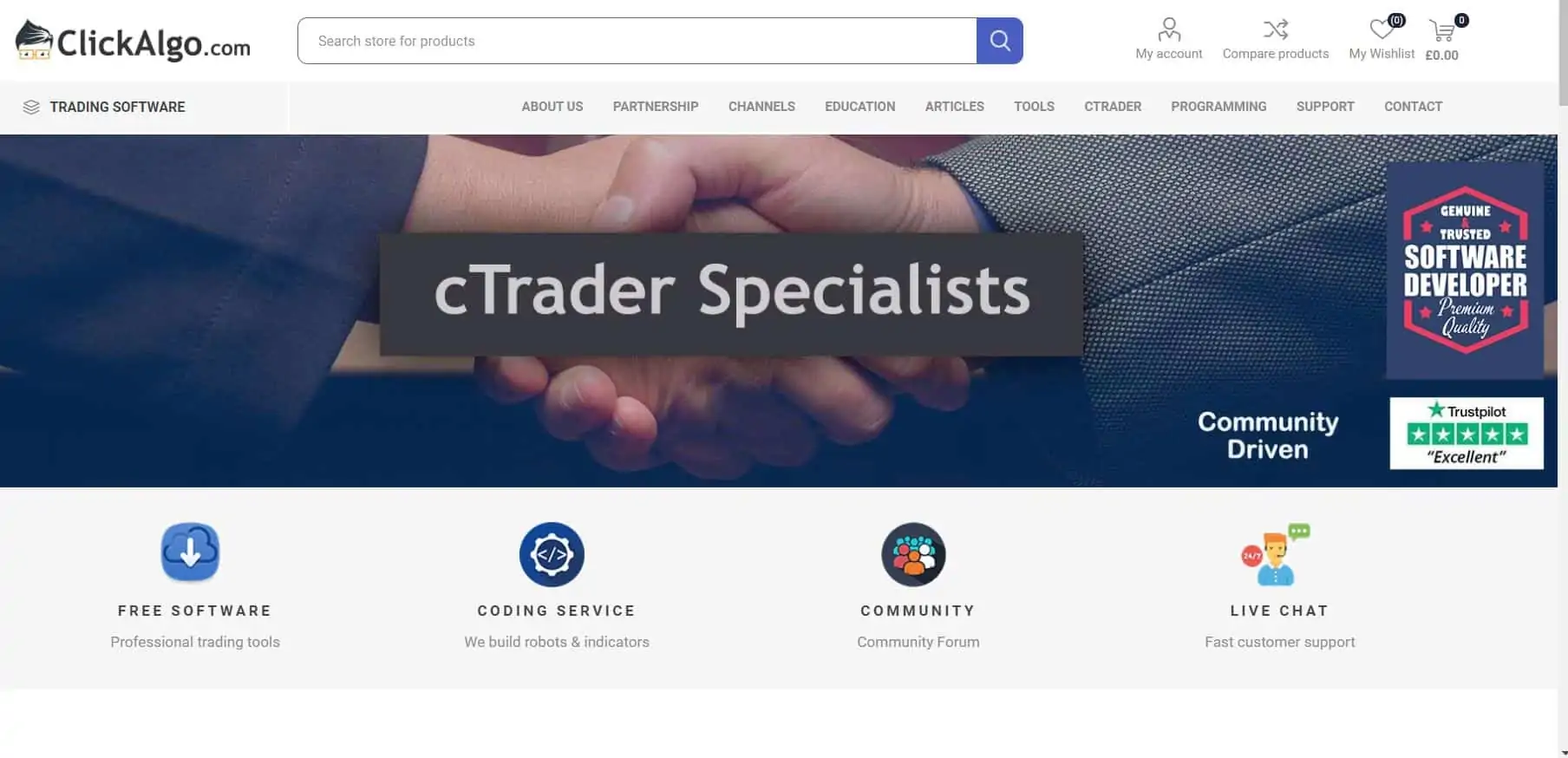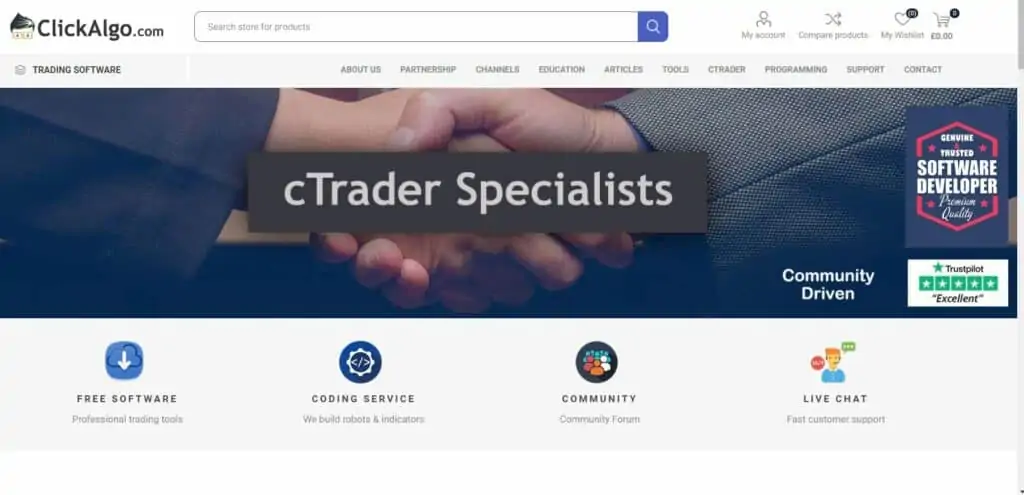 ClickAlgo Trading Indicators 
There is a wide variety of trading indicators for technical analysis and price action trading available in the marketplace. The indicators available might seem familiar but offer more variables for customising functionality than native indicators in the cTrader platform. Popular indicator tools include:
cTrader Market Profile Activity:

the market profile indicator shows volume at certain price levels indicating important price levels.

cTrader Harmonic Scanner:

this indicator is a pattern recognition scanner that detects six of the most popular harmonic patterns.
cTrader Median Renko Ultimate:

this package offers a suite of renko chart variations, such as mean, median, turbo, hybrid and point.
ClickAlgo Trading Strategies 
The marketplace features several trading strategies that are partially or fully automated. Popular trading strategies include:
cTrader Moving Average Trading System:

this trading robot automatically opens and closes trades based on various moving average indicators crossing above or below each other.

cTrader Smart Grid Trading System:

this automated grid trading system uses advanced calculations to minimise unprofitable positions by avoiding hedges during strong trends.

cTrader DiNapoli Stochastic Strategy:

this automated trading strategy uses the DiNapoli Stochastic indicator to generate signals or follow automated rules.
Free cTrader Indicators
ClickAlgo offers dozens of free cTrader indicators and tools to help traders start trading platform add-ons and test their products. Unlike the paid products, which offer buyers excellent support, the free products understandably come with limited support.
You can find many free indicators and tools to download for free and start using on a live cTrader account.
Custom Development Services
Besides offering a range of software packages, ClickAlgo also provides custom development services. Suppose you're a trader with a specific strategy or tool in mind. In that case, you can provide your requirements to ClickAlgo, and their developers can program your indicator or trading strategy for cTrader. The company also offers a conversion service to convert tools from other trading platforms to be cTrader compatible.
ClickAlgo Summary
The official ClickAlgo website is:

https://clickalgo.com/

 

The marketplace regularly features weekly discounts, which are flash sales on certain products. 

All products are eligible for a 14-day money-back guarantee.

Most products offer a sample trial version to try before you buy.

Every product comes with a detailed description, installation guide, user guide and in most cases, an instructional video.

The website offers several insightful user guides to help you understand the basics of installing and using custom indicators and trading robots.
Frequently Asked Questions
Can I trust ClickAlgo?
ClickAlgo has a 4.7 star Trustpilot score from over 250 reviews; the company is an official cTrader partner and cooperates with well-known brokers such as IC Markets, FxPro and Scandinavian Capital Markets.
Does ClickAlgo offer MetaTrader 4 indicators?
Although ClickAlgo can help you convert your MT4 indicator or expert advisor to be compatible with cTrader, the company does not offer any products for MetaTrader 4.
Can I customise the tools products bought from ClickAlgo?
No. ClickAlgo does not offer the source code with the products that it offers. If you want any custom functionality in any of their tools, you should contact the company directly to discuss modifications.