When you search google for a reputable or the best forex copy trade systems you will notice most website don't post actual copy trade systems. They post brokers that may offer a system or they are completely off topic.
We have done our research and compiled a list of 3 copy trade services we think are some of the best on the market today.
The 3 top Forex copy trade systems are:
MetaTrader Signal Service
Duplitrade
Signalstart
We also will also look at: 
What is forex copy trading?
Is Copy Trading Safe?
Is Copy Trading Profitable?
3 Best Copy Trade Systems
MetaTrader Signal Service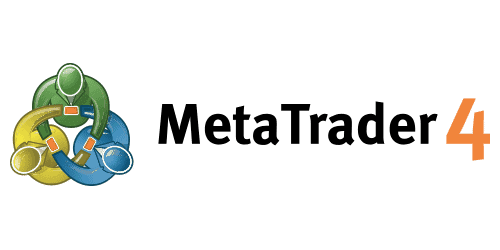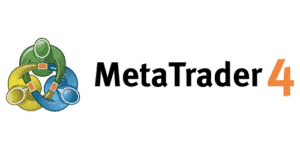 Copy Trade System: MetaTrader Signal Service
Live Chat: NO
Cost: Monthly costs range from $30 – $100 depending on the signal provider you follow.
The MetaTrader platform is one that needs no introduction because of how popular it is with traders. 
MetaTrade has come a long way since its inception and has added various features, one of which is the Trading Signals feature. 
This feature gives trades, whether they are new or experienced the chance to copy the trades executed by other traders. 
The MetaTrade platform has over 200+ free and commercial signal providers that can be found on the Signals tab of your trading platform. 
To make it easier for yourselves, MetaTrader has done all the hard work for you by sorting all the various types of signals and arranging them by putting the most successful signal providers at the top of the list. 
Once you have found your signal provider, all you have to do is subscribe to their signal and you can start copying their trades. 
This is available on both demo and real accounts, which means you can try their service on a demo account before you start on a real account, that way any losses you suffer whilst using their service will only be on a demo account.
Brokers that accept Metatrader Trading Signals:
All brokers that provide their client with the metatrader platform will be allow to use the metatrader signal service.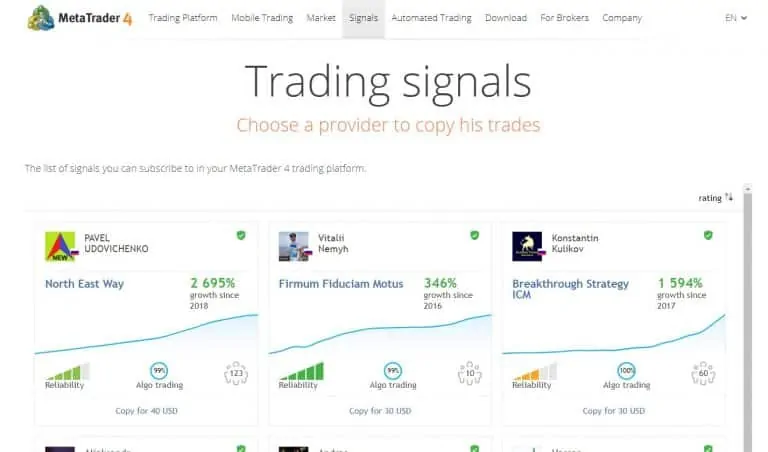 Copy Trade System: Duplitrade
Live Chat: YES
Cost: The costs are captured through the brokers spreads which you would have paid anyway.
Duplitrade features a unique trading simulator where you can create a demo account and choose how much money you start with. 
It's advisable that you choose the amount that you are more likely to start with, to make it as real as possible. 
Once you have selected how much money you want to start with, you can allocate funds to copy the experienced traders. 
When you allocate the funds, it goes into a pot which will automatically copy the trader you have chosen. 
Duplitrade features a table with data about each of the experienced traders, showing details like Net P/L %, Net profit, Trades, Win %, Profit Factor, Weeks, Follows and also displays a mini chart showing their progress. 
Each experienced trader has their own trading strategy, ranging from technical to fundamental as well as whether they are a scalp, intraday, swing or position trader. 
This is a really great feature especially for those who are just getting started with trading and are unsure about what to do. 
This way, they can copy what someone who is more experienced is doing, but they can utilize the backtesting platform to confirm their analysis.
Brokers that accept DupliTrade:
IC Markets
Pepperstone
Avatrade
Fusion Markets
AXI Trader
FXDD
FXPro
Equiti
Moneta Markets
Vantage FX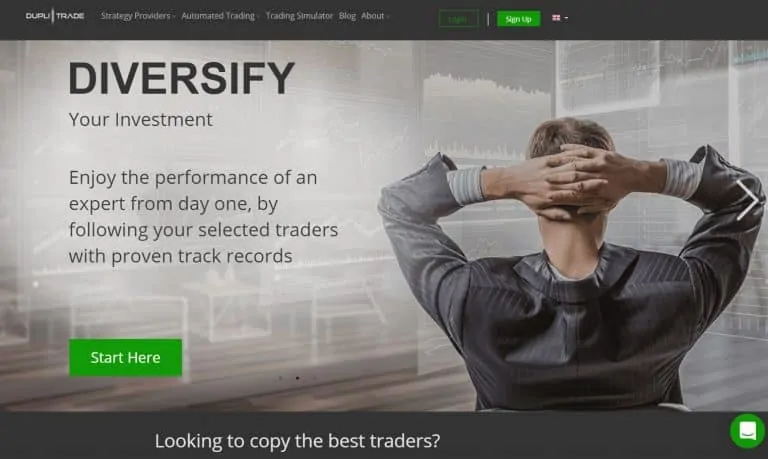 Copy Trade System: Signal Start
Live Chat: YES
Costs: $25 a month plus a separate monthly signal provider cost ranging from $20-$500 per month.
Signal Start is a professional signal service that has a number of reasons why they differ from other signal services. 
Such reasons include: Fantastic 24/5 support, Mobile compatibility, Account analysis, Superior technology, Full hosted, Quick and easy setup, Multi platform/Multi broker.
This platform also features a table displaying various pieces of information about each signal provider, such as; Gains, Pips, Drawdown, Trades, How much they charge. 
There are no hidden charges or costs with Signalstart. The service fee is only $25/month per account, however subscription to signals are billed separately. 
However, there is a limited time offer on at the moment, where they will allow you to test their service for 1 week for only $1.
What is forex copy trading?
Forex copy trading has become increasingly popular over the years, mainly because it takes the stress, anxiety and nervousness away from having to do the work yourself. 
To be able to trade means you are entering into a world of constant stress, wondering whether you've made the right choice and whether you are going to lose money or not. 
Speak to professional traders and they will tell you that they are constantly bombarded with tons of information that they have to process at lightning speed, just so they can stay ahead of everyone else. 
Trading is one of the most stressful occupations because it involves money, either belonging to yourself or other people's, but either way stress will become a part of your daily life. 
On the other hand, new traders have the opportunity to copy other traders who are a lot more skilled and seasoned, and have a lot more experience under their belt. 
Not only that but copy trading is great for those traders who don't have enough time to commit to trading full time, so they in a way outsource it to someone else.
Copy trading works by relying on things like social networks and social trading systems. 
Platforms like these showcase people's positions in the markets. When a trader enters a position, they can actually broadcast it to other traders within their network. 
These people can then decide as to whether they want to copy what they have done and open the exact same position, or their automated trading system can open a position for them without any additional input. 
Forex copy trading has become a very popular method because some price movements can be small but frequent, which requires constant monitoring.
Is Copy Trading Safe?
Trading itself carries an element of risk to it but the risk becomes even greater when you don't fully understand what you are doing. 
This is the trap that many new traders fall into because they are completely overcome with the lure of money. 
Now, if they were to copy another trader who has a lot more experience then they might have a lot more success. However, as we all know with trading there is no guarantee of profits due to the nature of the financial markets and a trader is only as good as his strategy. 
So to answer whether copy trading is safe, you are heavily relying on whether someone is as good as they say they are. 
A likely scenario could be you invest $1000 into a copy trader, and he or she could hit 1 bad trade, which might not massively affect them financially but with a small account it could lead to ruin. 
On the flip side, the opposite could happen where the trader places a buy trade right before a massive spike, which you inevitably copy thus hitting the jackpot.
Is Copy Trading Profitable?
Copy trading can be profitable, but there are obviously some boxes that need to be checked first before you go right ahead and start copying someone. 
Firstly, let's ignore the fact that no one can 100% predict what the financial markets are going to do, so profit is not always guaranteed. However, if the person you are copying has a promising history where they have proven to be profitable then this is a good sign. 
Another thing to look out for is what strategy they are using, as it has been proven that some strategies simply aren't worth the time of day and will end up costing more than what you invested. 
Probably one of the most important aspects when considering copy trading is whether the trader you are copying has verified results, otherwise you will be pretty much gambling. 
The underlying fact is that copy trading can be profitable, but it can also not be profitable as well. 
As mentioned before a profitable trader is only as good as his or her strategy, so it is important to copy someone who has a solid strategy with a strong emotional state. 
As I'm sure you're aware, emotions play a huge part in whether you will be a successful trader because you really need to separate yourself from your emotions in order to make precise and calculated movements. 
Before you start copying someone, find out if you can enquire about how their emotions affect their trading decisions. 
To put it simply, copy trading can be both profitable and not profitable too.