If you have stumbled upon this page, you're probably a new trader looking for great resources to help you navigate the forex market. 
Knowledge is power, and that's why we have compiled a list of the top forex trading blogs, forums and news portals. 
Unfortunately, there is a lot of misinformation out there; that's why you need to be careful to get your information from trusted sources. Many forex websites are biased towards certain brokers and products due to commercial relationships. If you're interested, you can read our advertising disclaimer to understand how Forex Rank earns money.
The forex websites listed below offer a wealth of knowledge and insight into the forex and financial markets. You'll find technical analysis and fundamental news and reports with up-to-date market commentary and discussion. 
Most sites, like Forex Rank, will offer forex trading articles, forex broker lists and much more, but other sites offer news 24/7 and insights from experts. 
There are literally thousands of forex trading websites, so we have assembled a list of the best forex websites, so there is no need to waste your time on unreliable information. If you're still unsure how to start, we've prepared a guide for newbies to understand how to start trading forex.
Best Forex Related Websites:
FXstreet
Forexlive
Forex Factory
Dailyforex
Investopedia
Forex Crunch
Fx Empire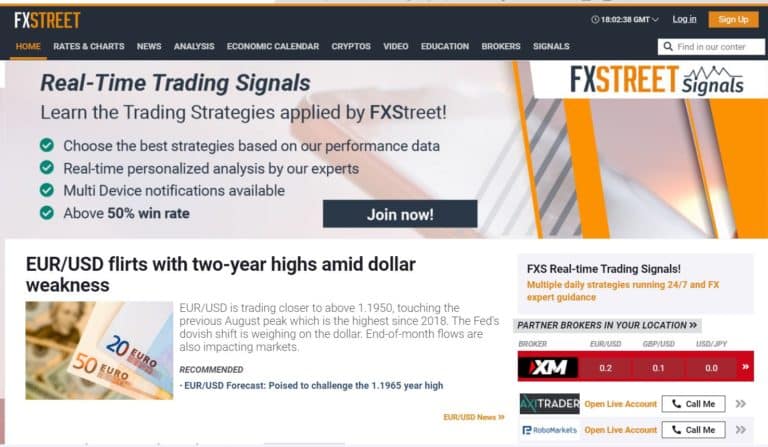 #1 FXStreet
FXStreet is one of the top forex trading websites worldwide. The website is visited several million times per month by more than 750,000 traders. FXStreet claims to be your meeting place, the crossroads where you can find everything you need to make the best decisions in the currency markets. Anytime, 24/5. Based on unbiased, high quality and free information.
The website hosts real-time exchange rates and charts with customisable technical studies, the latest forex news, an economic calendar showing upcoming announcements, trading signals and other interactive tools. The site also features market analysis and live webinars with the most renowned currency market experts.
FXStreet was founded in 2000 in Barcelona, where the website is managed by 25 people plus 30 other contributors worldwide. The website is available in 16 languages besides English.
What does FXStreet offer?
Live rates and price charts 
Market news and analysis
Economic calendar
Webinars and videos
Forex education centre
Trading signals and strategies
Forex broker reviews
It covers forex, cryptocurrencies, commodities and indices
#2 ForexLive
ForexLive is a paradise for traders seeking the latest news and information on the currency markets. At its core, ForexLive is a news portal with the most current stories. They provide real-time forex news and analysis 24/7 for professional and retail traders.
The website was founded in 2008, and the team behind it has more than 100 years of combined experience. In 2017 ForexLive was purchased by Finance Magnates, the largest business-to-business forex industry journal.
A few million traders, primarily from Canada, the United States and the United Kingdom, visit ForexLive each month. 
What does ForexLive offer?
Forex market news and commentary
Live charts
Technical analysis
Economic calendar
Currency converter
Education hub 
Forex jargon glossary
Forex broker reviews
It covers forex, cryptocurrencies, commodities, indices and sometimes stocks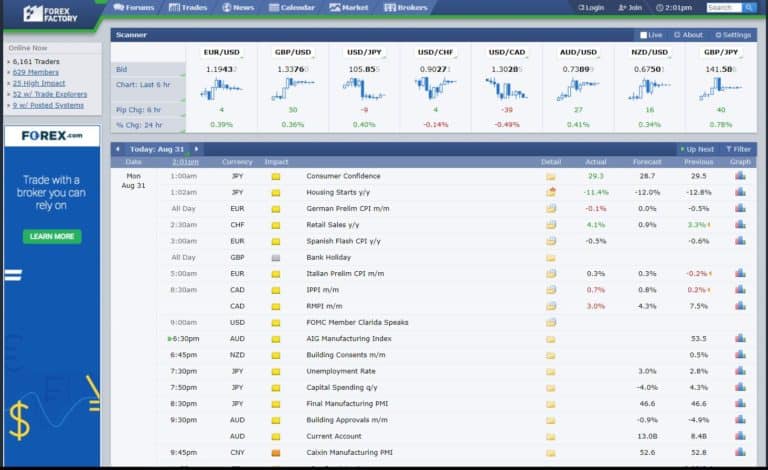 #3 ForexFactory
With more than 1.5 million users, ForexFactory is one of the most popular forex trading forums where traders worldwide interact and discuss the latest trends in the market. Besides an incredibly active community, ForexFactory offers an economic calendar, aggregates news from other websites, market scanner and trading sessions indicator. 
One of the unique features the site offers is a live trade feed, displaying other traders positions in real-time. The section also shows a leaderboard and market sentiment indicator.
ForexFactory launched in 2004 and has grown to become one of the top 100 finance websites worldwide. In June 2021, there were more than 10 million visits to ForexFactory.
What does ForexFactory offer?
Forex trading forum
Live trades feed
Market scanner
News aggregated from multiple websites
Shows real-time broker spreads
It covers forex, cryptocurrencies, metals and energy products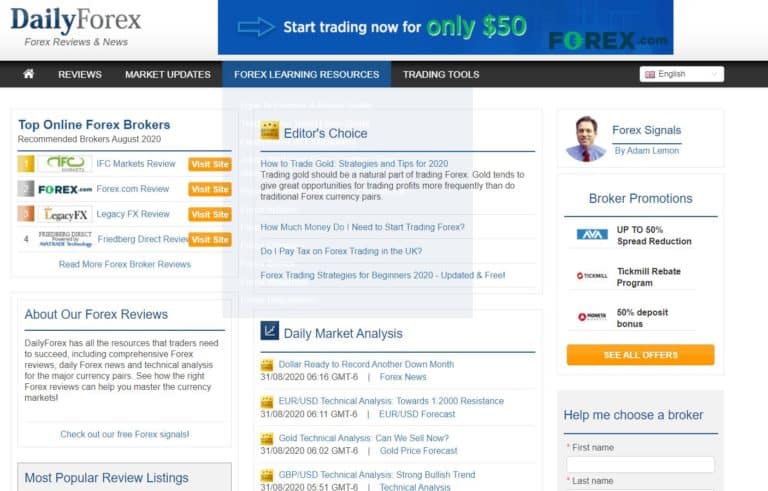 #4 DailyForex
DailyForex positions itself as a forex broker reviews and news portal. The website features sections about forex brokers, market news, forex education and trading signals. 
Hundreds of thousands of traders visit DailyForex every month. The company launched amid the 2008 financial crisis to restore trust and confidence to traders worldwide. The company employs dozens of financial markets specialists to produce high-quality content for traders to understand financial markets better.
What does DailyForex offer?
Forex broker reviews
Hundreds of forex trading guides and articles
Technical analysis 
Forex news and market commentary
It covers forex, cryptocurrencies, commodities and indices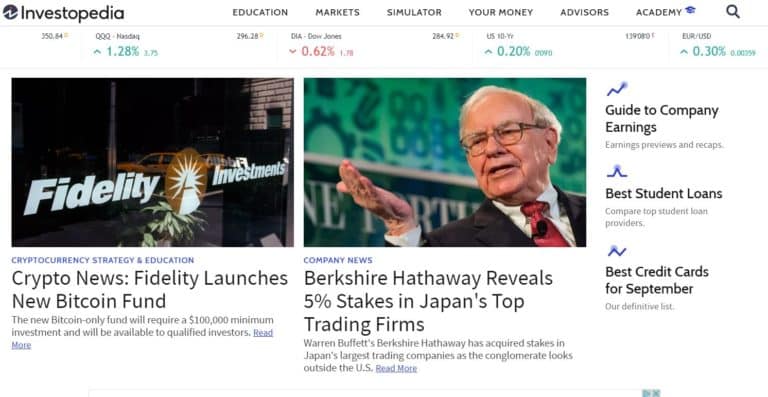 #5 Investopedia
Investopedia is an investing encyclopedia. The website has hundreds of detailed definitions of financial terms and jargon. If you've ever searched online for an investing term, you likely found Investopedia in the search results.
Investopedia was launched in 1999 and is a highly respected financial website. The website gets almost 100 million visits every month and is among the top 20 investing websites worldwide. The company has more than 800 contributors and published over 36,000 pages of content over two decades.
Investopedia is an incredibly useful resource for anyone interested in finance topics. The website offers comprehensive definitions, reviews, market news, courses and a stock trading simulator. The topics covered include stocks, options, futures, forex and commodities trading and investing, and personal finance. The site primarily caters to a US audience, meaning there isn't a strong focus on forex, but the site is valuable nonetheless.
What does Investopedia offer?
News and fundamental analysis
A financial dictionary with over 10,000 definitions
Personal finance section with reviews
Stock market simulator
A section to help you find a financial advisor
Academy with courses for beginners and professionals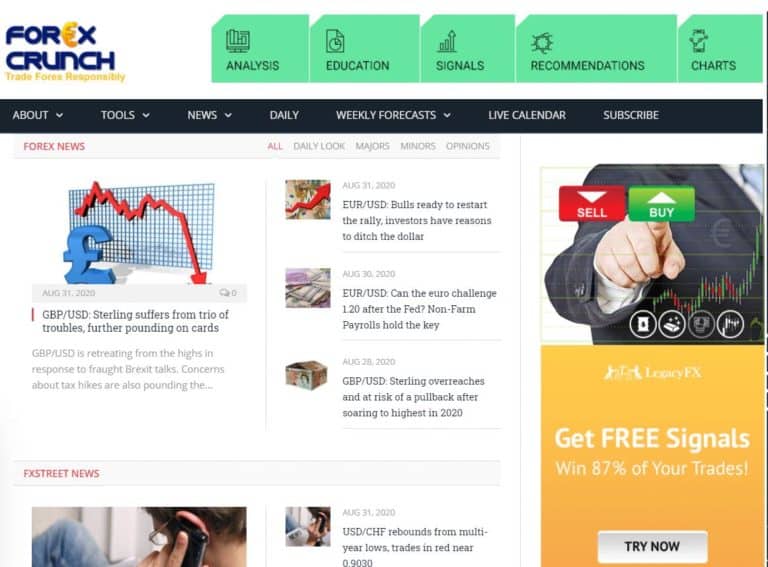 #6 Forex Crunch
Forex Crunch is a website dedicated to the forex market and a handful of other asset classes, such as cryptocurrencies. This forex website consists of news, opinions, market analysis, technical analysis, and tutorials to help you understand the forex market basics. 
What does Forex Crunch offer?
Forex market and industry news and opinions
Dozens of helpful guides
Weekly currency forecast
Live economic calendar powered by FXStreet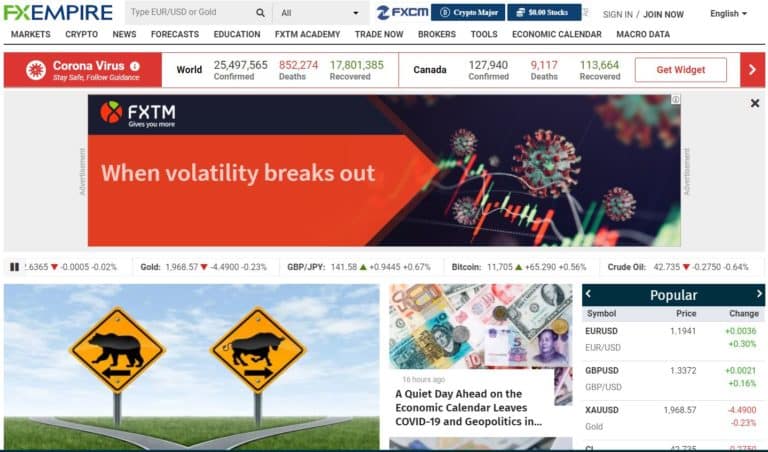 #7 FX Empire
FX Empire is a leading financial news portal providing up-to-date market news, analysis and research for dozens of markets, not just forex. The website features live quotes and interactive charts, an economic calendar, technical data, forecasts and rich educational content. 
FX Empire was founded in 2011, and just ten years later, the company became an authority in the forex market. Dozens of industry executives and professional analysts contribute to FX Expire. The website gets an average of 3 million visits every month.
What does FX Empire offer?
Financial, economic, forex, commodity and brokers news and opinions 
Educational content, 
Financial glossary
Broker reviews
Economic calendar
Forecasts and analysis
It covers forex, cryptocurrencies, commodities, indices and stock markets
More Forex websites to consider
These are just the top seven forex websites, in our opinion, and based on web analytics. Many of these sites listed are among the top 200 forex blogs listed on Feedspot. 
With this detailed list of the top forex websites, you can access an abundance of high-quality information and news to help you become an even better trader or simply begin your journey as a forex trader.
Author: Mark Prosz
Sources of information and credits for this post include: