TradingView and MetaTrader 4 are two incredibly popular trading platforms used by millions of traders worldwide. Although the two applications cater to traders, each one has unique advantages over the other. In this Tradingview vs MetaTrader 4 article, we explore the similarities and differences between these two tools and help you decide which suits your needs.
Article Summary:
Introduction to TradingView

Introduction to Metatrader 4

Difference between MT4 and TradingView business models

TradingView Vs MetaTrader 4 key features

TradingView vs MetaTrader 4 popularity

FAQ
Introduction to TradingView
TradingView is arguably the world's largest online trading and investor community and most popular web-based charting application for analyzing financial markets.
TradingView, Inc. was founded in 2011 by the same fintech entrepreneurs that launched MultiCharts, a well-known Windows-based charging application.
The platform is adored by all corners of the online trading world, attracting forex, cryptocurrency, futures, options and stock traders.
The platform boasts hundreds of indicators and lists tens of thousands of instruments streaming live quotes and hosting decades of historical data. You'll regularly see TradingView charts and widgets embedded on other websites and platforms.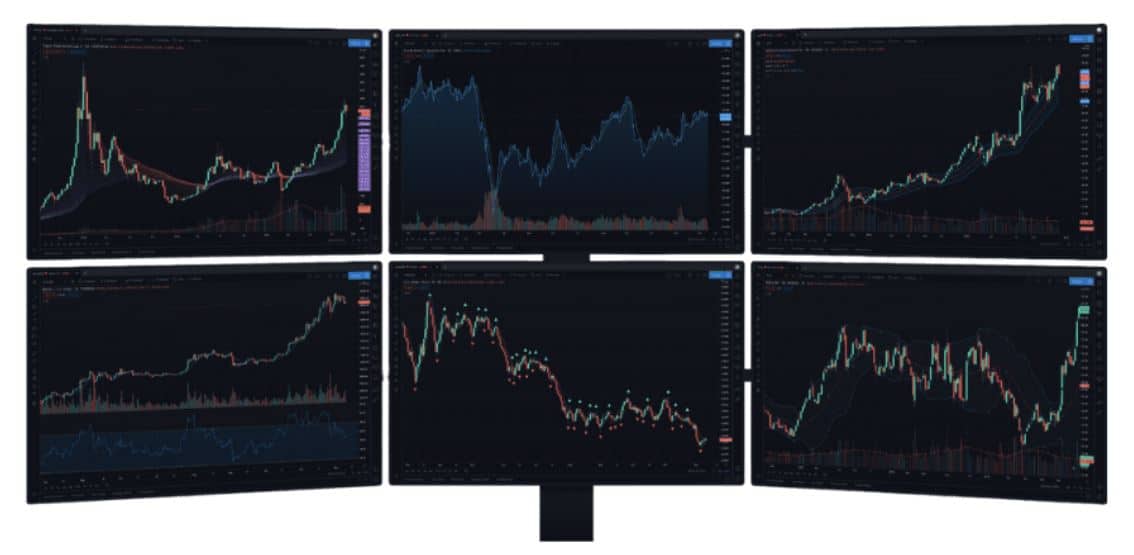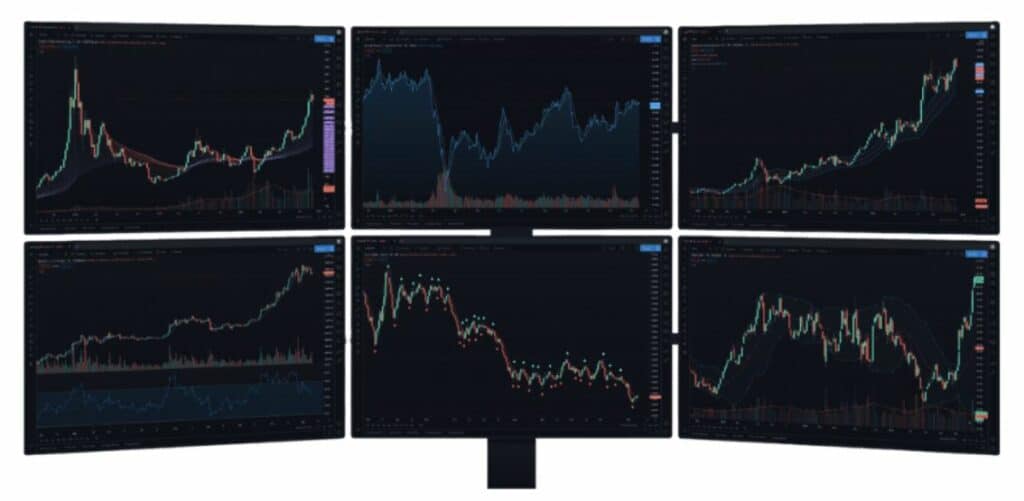 Image: TradingView desktop application
Introduction to MetaTrader 4
MetaTrader 4, also known as MT4, is the fourth generation of trading platforms developed by MetaQuotes Software Corp.
The first versions of trading platforms built by MetaQuotes were well received but are a distant memory today.[1]
MetaTrader 4 was launched in 2005, and at the time, it was revolutionary. MetaTrader 4 is a white label trading platform sold by MetaQuotes to forex and CFD brokers.
MT4 allowed forex brokers to launch with sophisticated trading technology in a matter of weeks while costing a fraction of what it would cost to build a proprietary platform.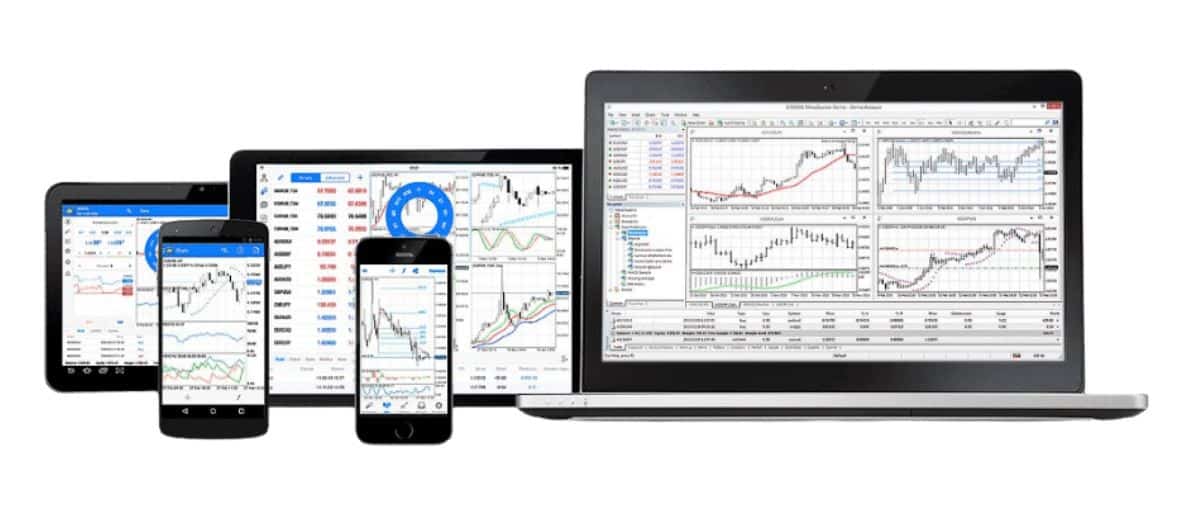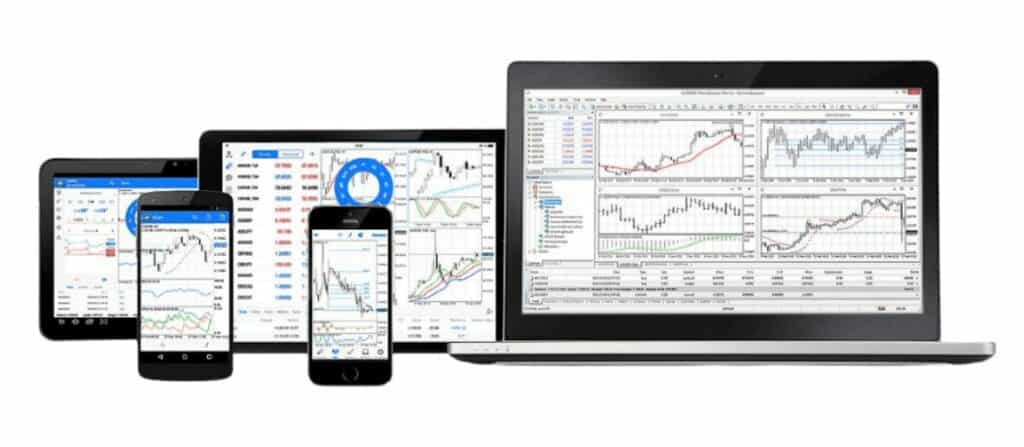 Image: Suite of MetaTrader 4 trading platforms
Difference between MT4 and TradingView business models
One of the most notable differences between MetaTrader 4 and TradingView is the business model. MetaQuotes earns its money by selling licenses and charging support fees to brokers, whereas TradingView earns money by selling subscriptions to traders.
Although MT4 has been discontinued, MetaQuotes used to charge $100,000 per license and a monthly technical support fee of $2,500 per license.
Some of the biggest forex brokers would require several licenses.[2] However, traders don't need to pay anything to access the platform. Brokers make their money back from trading commissions, spreads and market-making activities.
TradingView operates a freemium business model.
It's free to use a limited feature version of TradingView, but if you want to remove ads and use more features, you'll need to pay.
Monthly subscriptions start from $14.95 and go as high as $59.95. There are discounts for paying annually, and the company regularly offers promotions.[3]
TradingView vs MetaTrader 4 key features
Although MetaTrader 4 maintains its popularity, the developer ceased selling new licenses and updating the platform in 2018.
Therefore, TradingView has had plenty of opportunities to exceed the functionality of MT4, and in many areas, it has.
Trading functionality
One of the main differences between the two platforms is that MetaTrader 4 is designed as a trading platform, whereas TradingView is designed as a charting application.
There are thousands of forex brokers offering MetaTrader 4, whereas TradingView only supports three brokers.
Charting and technical analysis
Traders depend on both MT4 and TradingView for their charting and technical analysis capabilities.
In terms of chart types, timeframes, zoom levels, indicators, and drawing tools, TradingView is packing far more features than MetaTrader 4 in that respect.
One area where MetaTrader 4 shines is for its automated trading and custom development capabilities.
Chart types
MetaTrader 4 offers just three chart types; candlesticks, bars and line charts.
TradingView offers 12 chart types; candlesticks, hollow candlesticks, bars, line, area, baseline, renko, range, line break, kagi and point & figure charts. TradingView also lets you compare two symbols on the same chart.[4]
Timeframes
MetaTrader 4 has nine timeframes, whereas TradingView supports custom timeframes, allowing you to create custom chart periods.
Another big difference is that MT4 has just five chart zoom levels, while TradingView has 50.
Indicators & objects
MetaTrader 4 comes with 30 preinstalled indicators, whereas TradingView comes with more than 100. Similarly, MT4 has 19 objects, such as trendlines, Fibonacci retracements and shapes. Meanwhile, TradingView has more than 50.
What's more, TradingView has far more annotation tools, shapes and icons.
Range of instruments
As MetaTrader 4 is a white-label platform, the trading instruments listed depend on the broker providing the platform. MT4 is designed as a CFD trading platform; therefore, it only makes sense for brokers to list tradable instruments.
Most brokers offer currency pairs, energies, precious metals, indices and sometimes stocks. Brokers are also restricted to 1,024 instruments, which is a platform limitation.[5]
TradingView, on the other hand, lists many thousands of instruments from multiple venues.
For example, you won't find one price for Bitcoin versus the US dollar. You'll find BTC/USD prices from numerous exchanges. In TradingView, you can find prices and historical data for stocks, indices, futures, bonds, currencies, cryptocurrencies and various economic indicators from around the world.
Community
Community is the cornerstone of TradingView.
The application includes an Ideas Stream for members to publish their analysis and commentary, comments sections, user profiles, public and private chat rooms and live streaming service.
MetaTrader 4 has a standalone community where traders from different brokers can interact.
The MetaTrader 4 community is hosted at mql5.com. The website hosts a forum, marketplace, custom jobs board and signal trading service catering to MT4 and MT5 traders.
The TradingView community is certainly far more interactive and engaging.
Application support
TradingView is available as a web browser application, desktop application for Windows, macOS and Linux and a mobile & tablet app for iOS and Android devices.
MetaTrader 4 is also available for desktop, web and mobile devices, except with some caveats.
Firstly, since the macOS Catalina update, MT4 is no longer compatible with Mac.
You'll also find many brokers providing unofficial versions of MT4 web.
That's because MetaQuotes only launched the web browser-based version after several third-party developers built and brokers created their own unofficial web trader applications for MetaTrader 4.
TradingView vs MetaTrader 4 popularity
To determine the popularity of the two trading platforms, we can analyse publicly available statistics, such as website traffic and mobile app downloads.
Android App installs
MetaTrader 4 has been downloaded more than 10,000,000 times, whereas the TradingView app has been downloaded 5,000,000 times.[6] [7]
Website traffic
According to SimilarWeb analytics, tradingview.com received 223.5 million visitors in May 2021, whereas MQL5.com, the MetaTrader community, received 6.6 million for the same period.
Frequently Asked Questions
Why is MetaTrader 4 more popular than TradingView with forex traders?
MetaTrader 4 was the first forex trading platform that served its purpose better than its few competitors when it first launched.
MetaTrader pioneered the automated trading scene with its integrated development environment and proprietary programming language dedicated to trading functions.
A vast community of developers gravitated to MT4, and even to this day, they are reluctant to switch trading platforms.
Because of these circumstances, MT4 has firmly established itself as the de facto forex trading platform, even if better solutions are available.
Why is TradingView popular with cryptocurrency traders?
TradingView offers white label charting packages that appeal to new cryptocurrency exchanges building their web and mobile trading platforms.
Using a tried and tested charting library with all the features outlined in this comparison was a far better solution to building something from scratch.
This situation exposed TradingView charts to many cryptocurrency traders and established it as the go-to crypto charting application.
How to decide between MetaTrader 4 vs TradingView?
There are some bold differences between TradingView and MetaTrader 4.
Primarily, MT4 is a trading platform with basic charging features, whereas TradingView is a fully-fledged charting platform packed with endless technical analysis tools. Essentially, if you're looking for a forex trading platform, MT4 is probably the best option. However, if you're seeking a sophisticated charting application, consider TradingView.