You may have heard of the Toronto based Wealthsimple, with world-class financial advisors, over $8.4 Billion in assets, and 1.5 million users worldwide, making WS Canada's largest robo advisor, but did you know that they offer a free, self-directed investment platform called Wealthsimple Trade (WST)?  Wealthsimple advertises Trade as a more straightforward way to trade, but some limitations to the forum may be making it a bit too simple.  With this Wealthsimple Trade review, we will go through the features of the platform and give our thoughts as to whether or not Wealthsimple Trade is worth your time.
In This Review: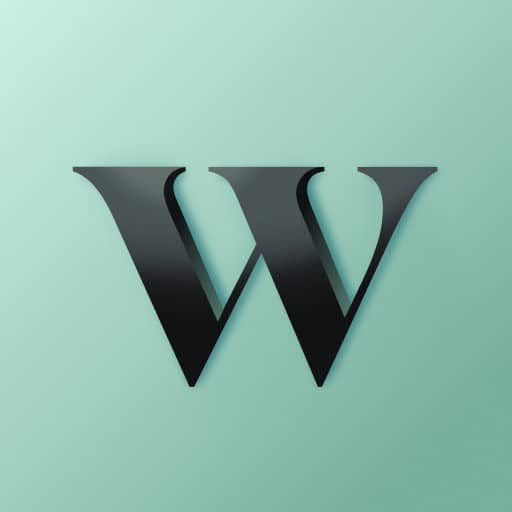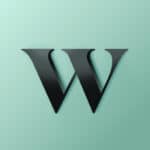 Wealthsimple Trade User Rating
User Rating
[Total Votes:

6

Average Client Rating:

4.7

]
The Wealthsimple Trade Canada Basics
In the U.S., Robinhood is the dominant force in free stock trades, and Wealthsimple Trade is positioning itself as the Canadian answer to this popular platform.  
As separate entities, if you already have a Wealthsimple account, you still need to sign up for a new WS Trade account, and funds can only recently be transferred between the two services.  
The Wealthsimple Trade app is not quite as versatile as Robinhood or the popular Questrade, and it also has a few shortcomings; however, Wealthsimple Trade delivers to its users a truly free experience, no-minimum and commission-free stock and ETF trading for the U.S. and Canadian exchanges, no withdrawal fees, and no maintenance, zero balance or inactivity fees.  
This package is unique for a Canadian brokerage, where even online services will typically charge fees anywhere from \$4.95 to \$9.95 plus every time you buy/sell a stock.  
From Feb. 1st 2021 Wealthsimple Trade has also begun offering Wealthsimple Crypto, a crypto trading platform; however, this is not free trading(see fees below).
Assets not available on Wealthsimple Trade
Mutual Funds
Preferred Shares
Options
Securities that trade Over-the-counter (OTC)
Forwards & Futures
Rights and Warrants
Bonds
Investment Savings Accounts & Money Markets
Stocks & ETFs trading on non-North American exchanges
Wealthsimple Trade is a progression for Canadian investing, which started with index funds, moved on to discount brokerages and Robo-advisors, and now zero-fee trading is available under the user's control. 
What Account Types Does Wealthsimple Trade Offer?
Wealthsimple Trade currently offers three account types:
Tax-Free Savings Accounts (TFSA)– a TFSA helps Canadians save and invest with tax-free gains. The owner can invest TFSA funds in various kinds of investment products.

A TFSA must be held individually(no comingling is allowed), and the account has yearly contribution limits.
Beneficiaries and successors can be designated.
For U.S. citizens, the IRS considers TFSAs a foreign trust and therefore earned income is taxable.

Registered Retirement Savings Plan (RRSP)– helps Canadians save for retirement. Money contributed is tax-deductible from income, resulting in less income tax, but you will be paying tax on the gains in the future. Some of the funds from an RRSP can be used to buy a home and pay for education.
Non-registered personal accounts- has no deposit limits or withdrawal restrictions, but all investment gains are taxable. (all Crypto accounts are in this category)
A few important considerations are:
Wealthsimple Trade allows only one of each type of the above accounts (total 3) to be opened per customer.
RRSP or TFSA accounts held elsewhere can be moved to Wealthsimple Trade
Additional RRSP or TFSA accounts can be held with Wealthsimple Invest.
There is a Basic trading account and a premium account.  
The basic trading account has data that is 15 minutes behind real-time, but Wealthsimple Trade's Premium Account has the following attributes and cost:
Access to live real-time market data through snap quotes
above accounts (total 3) to be opened per customer.
RRSP or TFSA accounts held elsewhere can be moved to Wealthsimple Trade
Additional RRSP or TFSA accounts can be held with Wealthsimple Invest.
Get a $1,000 instant deposit limit(trade account is limited to $250 instant deposits).
Account upgrading costs $3 a month +tax.
The real-time data for the premium account is provided by:
TMX Datalinx
NEO Exchange
Canadian Securities Exchange
Nasdaq Stock Market
Get 2 free stocks when you sign up with Wealthsimple trade valued up to $4500. The 2 free stock bonus has a value of between $5 and $4500 with an average value of between $20 and $50 (CAD dollars). 
What Education Does Wealthsimple Trade Offer?
Wealthsimple offers an investing masterclass with a total of ten videos hosted by actor Nicholas Braun (HBO's Succession), ranging in length from a little over two minutes to eight minutes. 
These videos are concise and provide useful information for the beginning investor with topics such as, Saving vs. Investing, Five Simple Rules of investing, Should I Pay Someone to Help?, and How Much do I Need to Retire? 
While all of these topics are important for any investor to know, calling this a "masterclass" taking only 45 minutes is a stretch.  
However, Wealthsimple also has a section called "Personal Finance 101" which has a much more extensive selection of training tools for any would-be investor. 
Broken into the following categories:
Investing
Saving
Taxes
Crypto
Accounts
Finance
Retirement
These Finance 101 topics are much more detailed and will provide a user with a basic foundation from which to build.
There is also a regularly updated magazine and podcasts for Wealthsimple users (and anyone else for the matter) to access.
What are Wealthsimple Trade's Commissions and Fees?
The majority of trading with Wealthsimple Trade is free:
Wealthsimple Trade charges a 1.5% currency conversion fee on CAD to USD conversions and back when trading U.S.-listed securities.  
This could add up for someone that wants to have a U.S. stock heavy portfolio.
The following lists the by request fees that could come up:
Crypto trading also involves a 1.5-2% Operations Fee per transaction depending on the size of the trade and the crypto chosen. 
Deposit and Withdrawal Options
The only way to deposit money into a Wealthsimple Trade account is by first linking it to any Canadian chequing or savings bank account.  This linking can be done in two ways;
Automatic linking-using Plaid to request your online banking information
Manual linking– Manually entering banking information and provide a "supporting bank document."
Once a bank account is linked, Canadian Dollar deposits of up to $50,000 can be made using a "Move funds" tab in the top menu of the app, into the desired Trade, TFSA, or RRSP account; this includes an automated process for moving from a Wealthsimple Invest to Wealthsimple Trade account. 
There is an option for automatic deposits as well, but there is no notification that any deposit limits are nearing or surpassed for a TFSA RRSP account. 
U.S. funds can not be directly invested in Wealthsimple Trade; if there is a USD transfer, it will automatically be converted to Canadian dollars; they would then have to be reconverted to invest in the U.S. Markets. 
Deposited funds(beyond maximums) take up to three business days to be available for investment. 
Withdrawal of funds from the cash balance in a Trade account can be sent to the linked account and will typically take 1 – 2 business days, plus any time the receiving bank may add (usually one business day).
Customer Support
The customer support seems adequate but not great, with self-service being the preferred route of help.  
Wealthsimple Trade has a Virtual Assistant Robo-contact that we worked through and attempted to contact a "real person" and got the following unsuccessful reply on a Saturday.  
Having to follow the link after being told no one is there is not the best.
Nonetheless, the app has a 4.6 out of 5 stars on Android(37,000 reviews), and the Apple store is at 4.7 stars with 127,000 reviews, giving it 5th place in finance rankings; leading us to believe that most are happy with their experience. 
Wealthsimple invest is known for being safe and easy, and Wealthsimple Trade and Crypto follows suit.  
You can open an account with only $1 but need to have about $10 to buy anything (except fractional shares, see below).  
You can have immediate access to $250 of a deposit for the basic free account, and a premium account can access the first $1,000.
A new option that Weatlhsimple Trade offers are fractional shares.  
Other services have offered these, but it is new to Wealthsimple.  If you wish to buy a company's shares, you don't have to buy an entire share, but only a portion of one and have access to nearly all of the benefits; this is useful when Berkshire Hathaway is over $300,000/share, Amazon is over $3,300, and Tesla over $750.  
Fractional shares are also suitable for dividend reinvestment (rather than just being added to cash).
Once your account is funded, use of the trading platform is quite easy and intuitive.  
Start by searching for a stock or ETF that you are interested in buying.  You can find categories but let's choose Apple.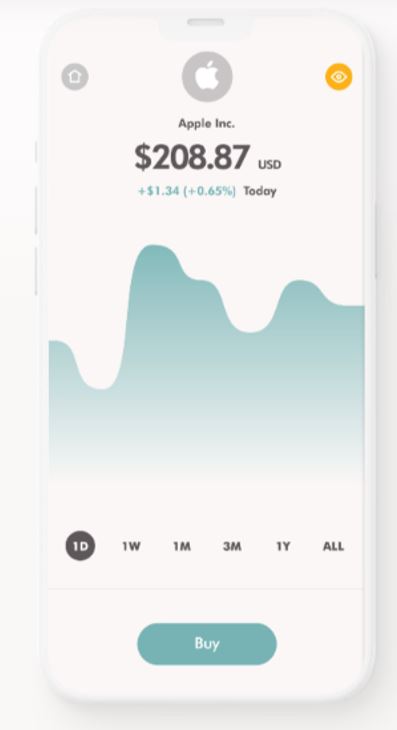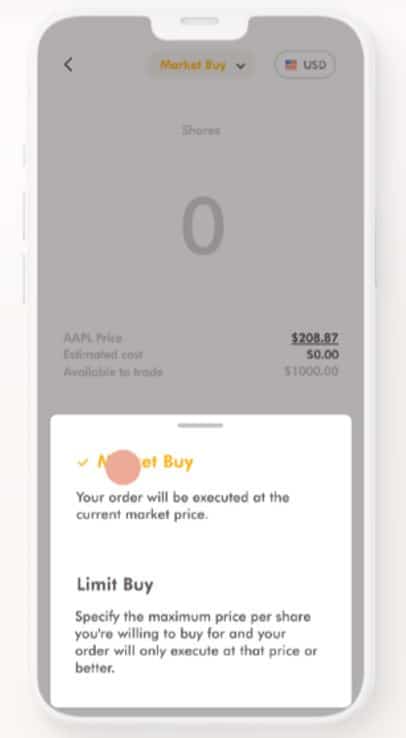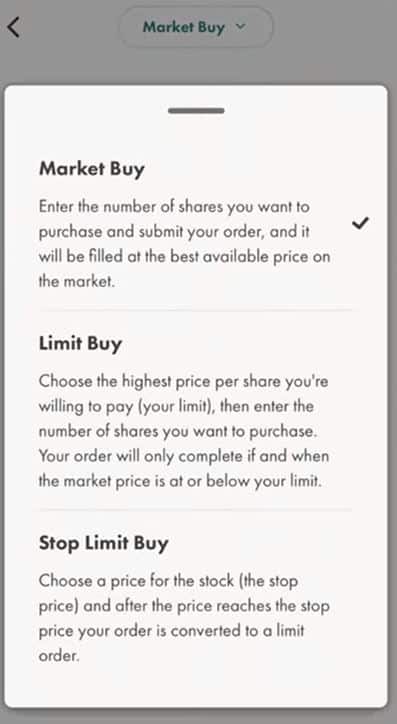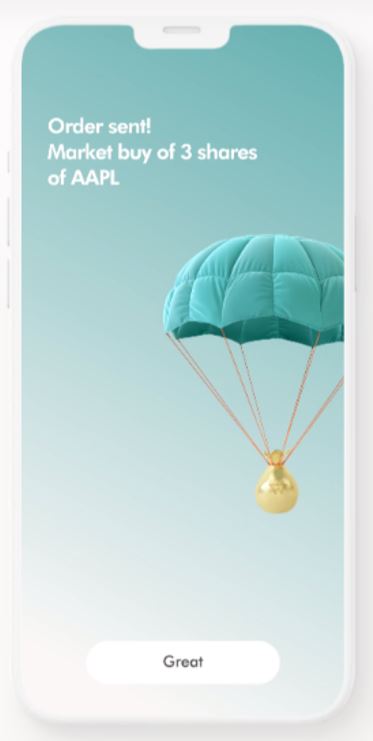 Those interested in cryptos should be aware that you do not own a crypto wallet but are buying and selling the digital assets of Wealthsimple.  
Cryptos will be part of your trade account only, TFSA and RRSP can not be used for crypto trading.  
Before cryptos trading, you will be given warnings against using critical funds like student loans, mortgages, retirement, and emergency funds for trading cryptos and have to take a brief crypto knowledge quiz before you can begin.  
After that, the trading is nearly the same as stocks or ETFs but can be done 24 hours seven days a week, unlike the equities markets that close. 
Wealthsimple Trade Pros and Cons
The pros
Wealthsimple Trade is Canada's only commission-free trading platform. Its competitors will charge a minimum of $4.95/trade and up to $9.95 plus.
WST provides free access to many investments in both the U.S.(NYSE, Nasdaq) and Canada(TSX), as well as cryptos like Bitcoin and Ethereum.
WST offers tax-free savings accounts(TFSAs) and registered retirement savings plans(RRSPs), as well as a facility to transfer these from other banks.
WST provides one free stock(cash equivalent) worth up to $4500 to new users.
A Premium account is very cheap at $3 a month for undelayed real-time information.
Immediate access to $250 for a Trade account or $1000 for the Premium account, with crypto trading also accessible.
Simple to use the app with the safety of funds a priority, using two-factor authentication (2FA), backed by $380 million in investment, and is regulated by the IIROC (Investment Industry Regulatory Organization of Canada) & funds are held with a custodial broker protected by the CIPF (Canadian Investor Protection Fund) the same as Canadian banks.
The cons
Wealthsimple Trade exclusively trades stocks, ETFs and select cryptocurrencies in the U.S. and Canada only. Many assets such as mutual funds or international stocks are unavailable.
S. Stock purchases will result in foreign exchange fees, and you can not hold USD in an account.
The Mobile version is the best way to trade their desktop version is still a bit slow and buggy.
Customer Service may not be the best if you need something fast.
All funds above the minimums take three days to become available.
The basic version has a 15-minute delay of data.
Is wealth simple really free?
Nearly everything is free; you will pay for any currency conversion but adding and withdrawing money as well as the trades are commission and fee-free.
Does Wealthsimple charge a fee for taking money out of my account?
No it does not.  No withdrawal or transfer fees, nor any zero balance or dormant account fees. 
Is Wealthsimple Trade good for day trading?
The basic account is not a good choice, first because of the information delay, this is fixed with the premium account.  Second, Wealthsimple Trade does not provide more than rudimentary information about the stocks/ETFs, and you may be better suited with a different service like Questrade.  Wealthsimple Trade states that "Day trading is not generally encouraged on the Trade platform, however, it is possible. Assets are immediately available to sell after being purchased, and when an asset is sold, the proceeds are available to use towards a new purchase right away."
---
The Wealthsimple Trade Review bottom line
Supposing you are a first-time investor or an experienced one in either the active or passive category.  In that case, Wealthsimple Trade is Canada's easiest to use and only free tool available to purchase Canadian stocks and ETFs.  If you wish to hold a USD account and Trade in the U.S. markets, Weatlhsimple Trade provides access, but you will get hit by the exchange fees.  Those wanting to go beyond North American trading or wish to have more information about the investment choices will need to find another service.  All in all, Wealthsimple Trade is very good at what it does, and if it continues to offer expanded services, it will be even better.
*A portion of the Sign up links to brokers websites are affiliate links. We may receive a commission with no charge to you. This enables us to keep creating helpful forex trading content for our readers for free.
Author: Stephen Masters –  is a serial entrepreneur and international businessman, with a love for teaching the ways of wise investment. Stephen has worked in several countries in the fields of services marketing, strategic planning, trade, advertising, data science, and commodities. In his free time, he enjoys finding a city's best taco truck, learning foreign languages, and backpacking.
Reviewed and edited by: Mark Prosz
Sources of information and credits for this post include: https://www.wealthsimple.com/en-ca/